Production of welded pipes and hollow sections
Technical parameters of the line
Pipes
ø 32 mm – ø 102 mm
Sections - square
20 × 20 mm – 80 × 80 mm
Sections - rectangular
40 × 20 mm – 100 × 60 mm
Wall thickness
1.5 mm – 4.0 mm
Production lengths
4200 mm – 12,000 mm
Material characteristics
Ultimate tensile strength Rm
Max. 560 MPa
Upper yield point Re
Max. 430 MPa
Ductility A
Min. 20 %
Current assortment of pipes and sections
Hollow section with square cross-section per ČSN EN 10219-1 and ČSN EN 10219-2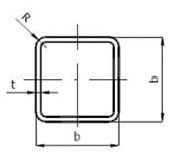 Dimensions
t
b × b
1.5
2
2.5
3
3.5
4
20 x 20
x
x
25 × 25
×
×
×
30 × 30
×
×
×
×
35 × 35
×
×
×
×
40 × 40
×
×
×
×
×
×
45 × 45
×
×
×
×
×
50 × 50
×
×
×
×
×
60 × 60
×
×
×
×
70 × 70
×
×
×
×
80 × 80
×
×
×
×
Hollow section with rectangular cross-section per ČSN EN 10219-1 and ČSN EN 10219-2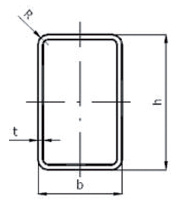 Dimensions
t
h × b
1.5
2
2.5
3
3.5
4
40 × 20
×
×
×
×
40 × 30
×
×
×
×
50 × 30
×
×
×
×
×
×
60 × 30
×
×
×
×
×
50 × 40
×
×
×
×
×
60 × 40
×
×
×
×
×
80 × 40
×
×
×
×
80 × 60
×
×
×
×
100 × 60
×
×
×
×
Hollow section with circular cross-section per ČSN EN 10219-1 and ČSN EN 10219-2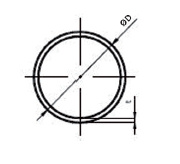 Dimensions
t
ø D
1.5
2
2.5
3
3.5
4
33.7
×
×
×
×
42.4
×
×
×
×
×
48.3
×
×
×
×
×
57
×
×
×
×
×
×
60.3
×
×
×
×
×
×
76
×
×
×
×
89
×
×
×
×
101.8
×
×
×
×
Other grades of steel, dimensions, tolerances, and other production or packaging specifications are subject to negotiation prior to signature of the purchase agreement.
General technical information
Material: pipes and sections are cold shaped from easily weldable alloy and fine-grain structural steel suitable for hot dip galvanizing.
Surface: the condition of pipe and section materials is after hot rolling and cold processing.
Surface protection: pipe and section surfaces are protected from corrosion due to humidity with an oil emulsion after cold shaping.
Quality check:the production process always includes pre- and post-production quality checks. The pre-production check includes a weight check, a dimension check, a visual inspection of the surface of the source material, and a check that the accompanying documentation is complete. The post-production check includes a dimension check, including shape and straightness, weight, packaging, and labelling. Welds are tested using an expansion test. Tensile test per ČSN EN ISO 6892-1. Declaration of performance (for download), Certificate of conformity of the factory production control (for download).
Packaging: SSC Ostrava has a standard packaging method that ensures sufficient protection during handling and shipping (strapping and clips). Pipes and sections are bound with steel strapping into 1000-2000 kg bundles.
Testing and inspection documents: we issue product certification 2.2 per ČSN EN 10204.
| File description | Size | File for download |
| --- | --- | --- |
| Declaration of Performance | 415.5 KB | PDF |
| Certificate of conformity of the factory production control | 505.69 KB | PDF |
| Certificate EN ISO 9001:2015 OV | 280.59 KB | PDF |